SPHERIA ASSET MANAGEMENT - AUGUST 2021
Global microcaps: your large cap exposure's perfect match
Spheria Asset Management's specialist global microcap investment team provides clients access to a unique asset class, offered by few other fund mangers globally. In this article, Gino Rossi, Portfolio Manager of the Spheria Global Microcap Fund, explains how blending an exposure to global microcaps with large caps could benefit investment portfolios.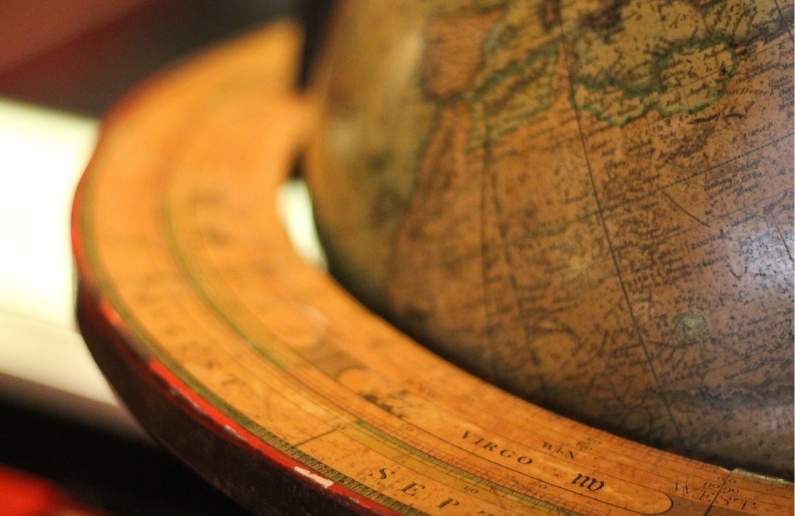 Is your global large cap exposure all alone? Sitting within your portfolio with no help for the bad times, no partner to help make the good times even better?
We have a strong candidate to join your large caps on the wealth creation journey – one that ticks a lot of boxes and might even get along with the in-laws.
Global microcaps is an asset class that very few fund managers globally offer, so it would be no surprise to us if you haven't considered adding them to the 'family'.
In fact, in our experience very few Australian institutions already have exposure to global microcaps. The US is further progressed, with interest from large foundations and endowment funds more common.
We think the gap will narrow in the years ahead.
Perhaps the reason for the hesitation domestically is the perception that global microcaps are tiny companies. But, businesses within the global microcap universe are considered companies with market caps of up to US$1bn.
Domestically, think Appen, GrainCorp, Collins Foods or Blackmores – in a global context, microcaps are more akin to an Australian small cap.
Why global microcaps may be the perfect match
Strong performance sits at the top of the checklist. The evidence shows that microcaps are the best performing segment of global developed markets.
Below you see two log-scale charts showing the outperformance of microcaps in the US and the UK. The charts also highlight one of the most compelling attributes – that is the consistency of the outperformance across long periods of time.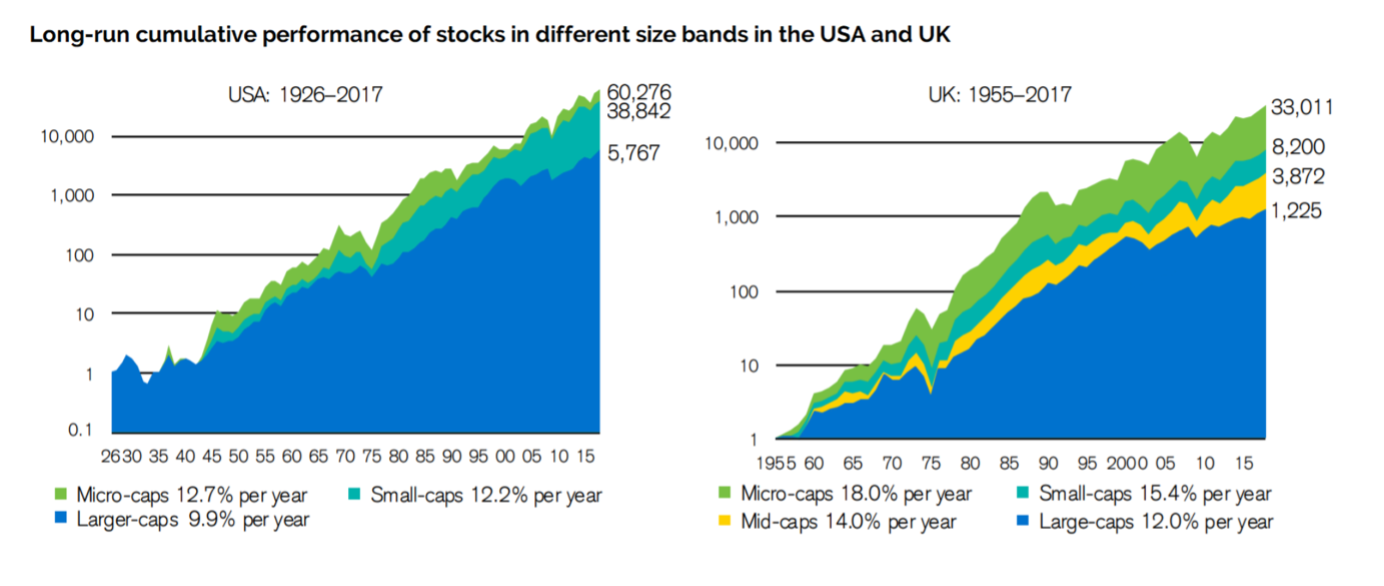 But is the pay-off higher risk?
Well, the evidence shows this is not always the case. Microcaps can indeed lower systematic portfolio risk because this is a segment of the market that marches to the beat of its own drum.
Microcaps have their own unique cycle and global microcap portfolios tend to be less US centric – only 20% of our global microcap portfolio is in the US.
A great example is the recent market volatility caused by COVID-19. Below you can see on the right a 50/50 mix of Spheria's Global Microcap Fund blended with the MSCI World Index. The result is significantly reduced volatility when compared to large caps alone.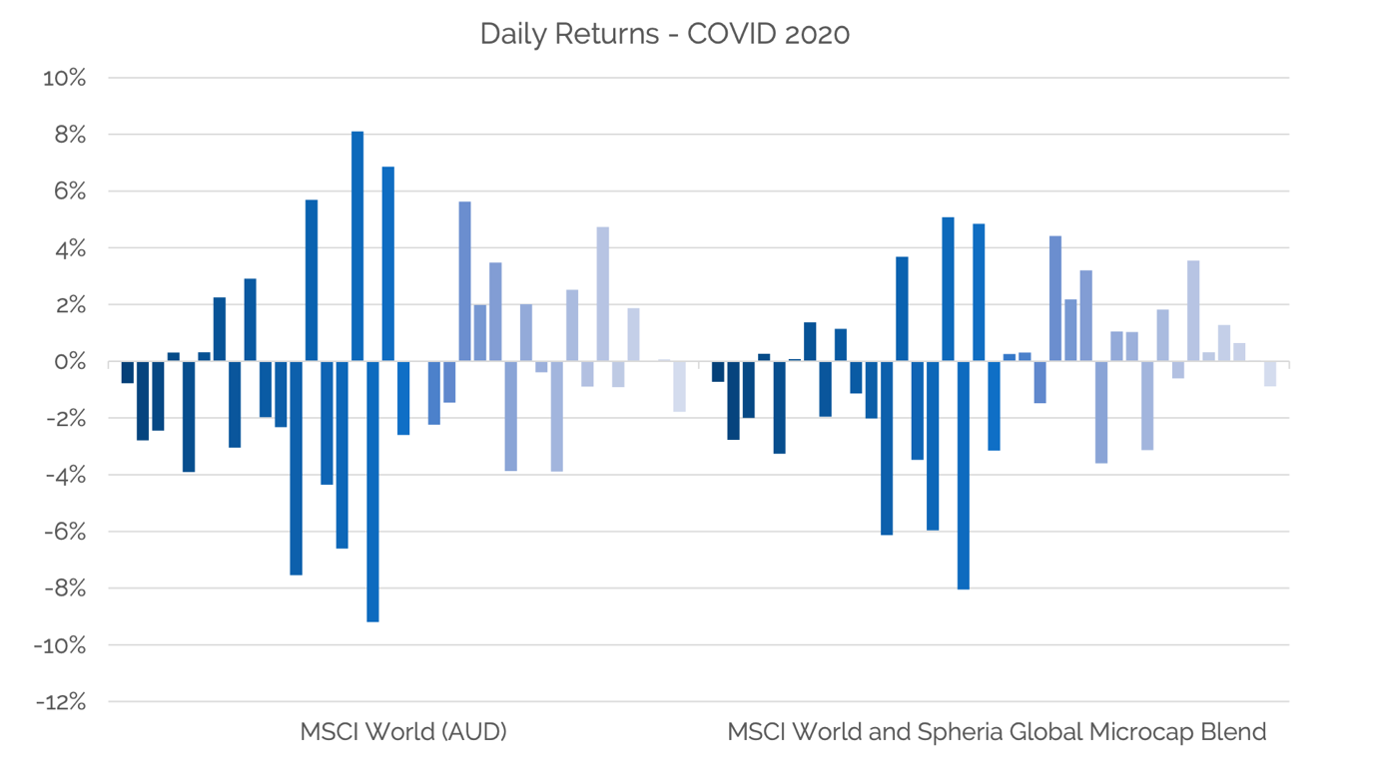 Since the Funds' inception, blending Spheria Global Microcap with a mainstream global manager or an international equities ETF, would have increased the equity portfolios total return, and reduced its volatility.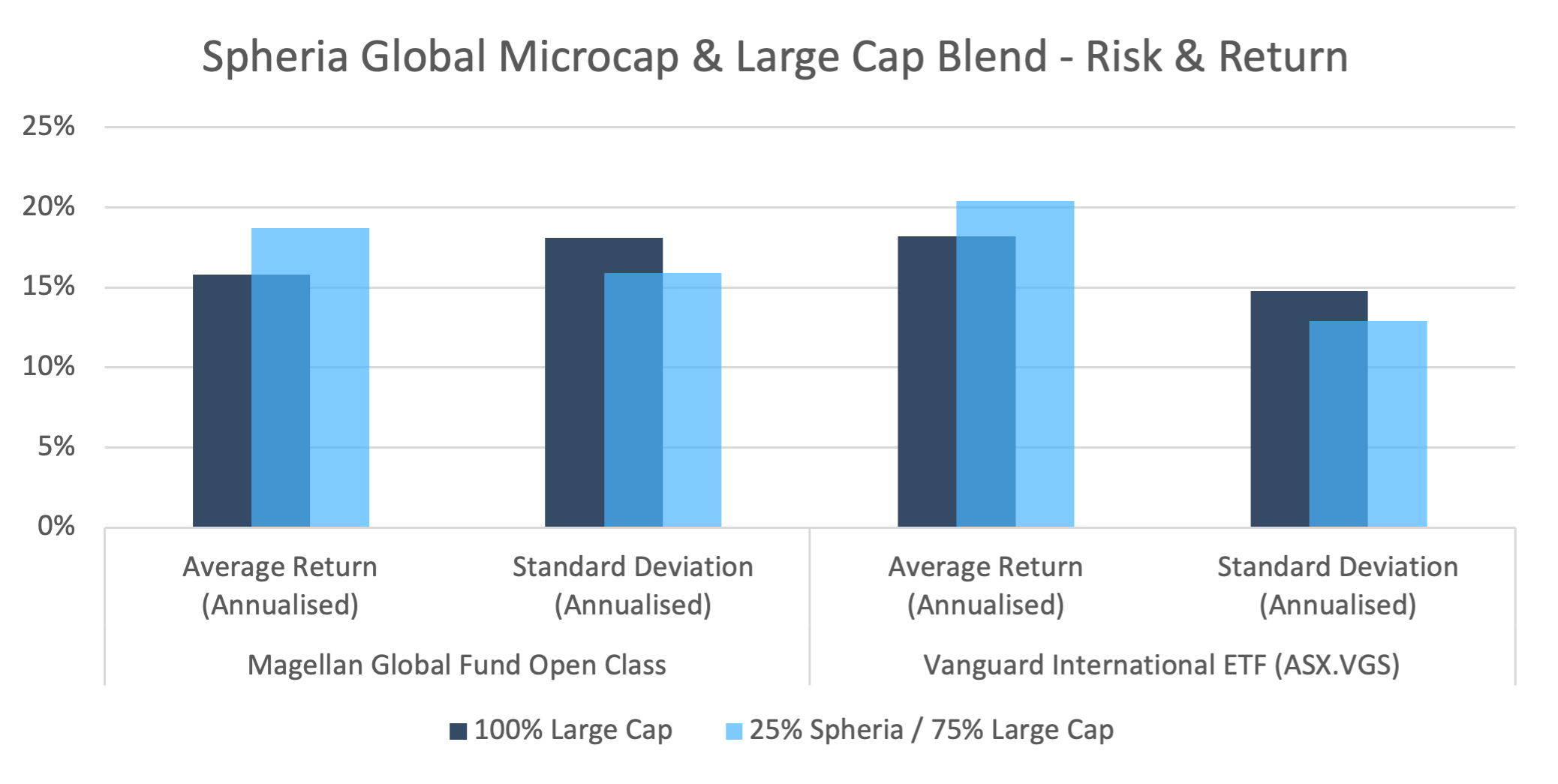 Microcaps tend to oscillate around large caps depending how the economy is performing, making them more negatively correlated with Government Bonds and adding to the diversification benefits. Our analysis shows that adding Global Microcaps to your equity portfolio will improve its diversification more than simply adding further to your large cap manager line-up.
What's Global Microcaps Love Potion Number 9?
There are many attractive attributes that characterise this investment universe.
First, 51% of the MSCI World Microcap Index has no sell-side coverage.
Most investors know larger companies pay bigger fees that attract more investment banks and subsequently attract more coverage. So, many smaller companies get ignored by investment banks and hence fund managers don't notice them to the same extent.
For the few who do specialise in searching the world for global microcaps, it makes undiscovered gems easier to find. It also means those few investors get unparalleled access to management – we are typically speaking to the CFO or above (quite often the founder). In global large caps the majority of fund managers get relegated to an investor relations executive.
The second, is a universe of fat tails.
Below we've charted the 3 year returns of all constituents in the S&P 500 against the MSCI World Microcap Index.
You can see just how the big the global microcap universe is, compared to the S&P 500. But what's even more exciting to us as fund managers is the large fat tails which give active stock pickers greater avenues to generate strong alpha and differentiate themselves from the benchmark, providing real value for clients.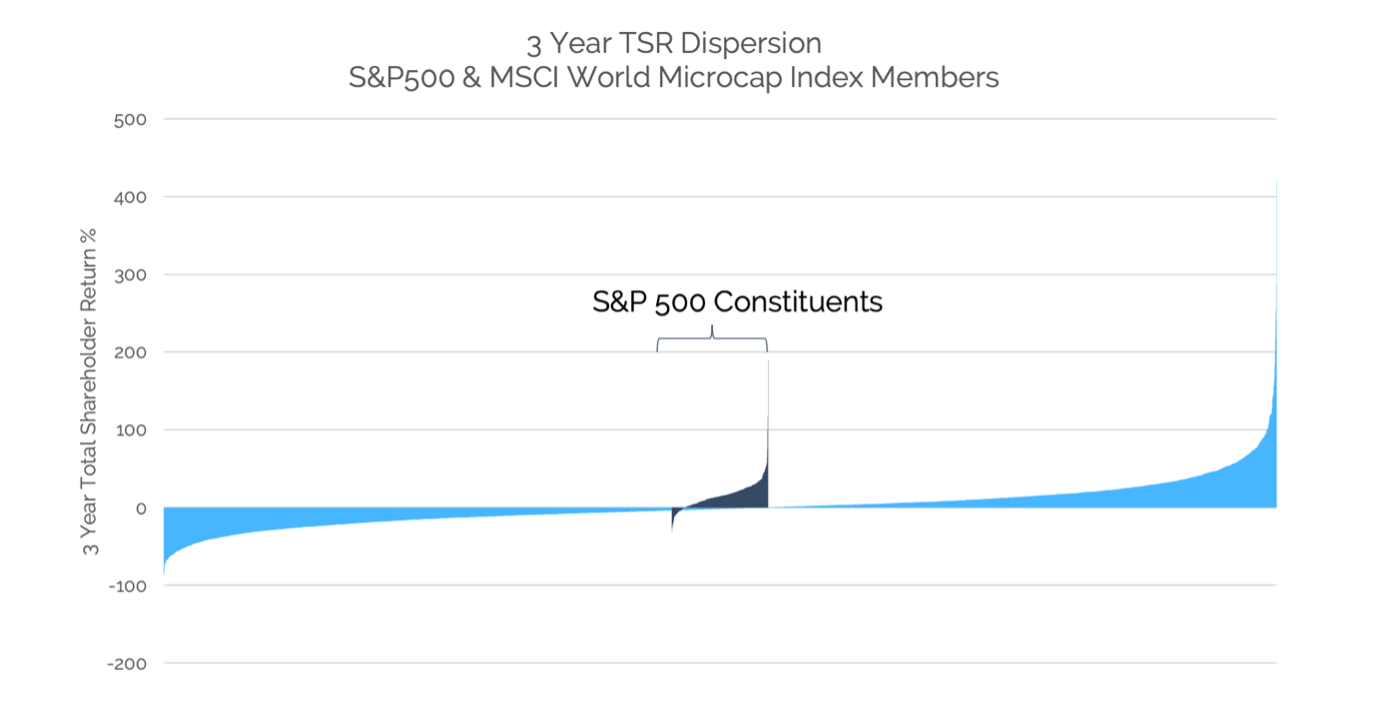 Finally, Global Microcaps offer far greater alignment with investors. Insider ownership is widespread within the large microcap universe and is something that we think is very attractive.
The research shows companies with higher insider ownership tend to do better. Not only is the greater alignment a strong incentive, but companies with high insider ownership can afford to take a longer term vision, placing them at an advantage over many competitors. This longer term perspective also translates into better social and environmental ESG metrics. We think that is a major advantage over the long-run.
Your large caps needn't be lonely anymore
On the journey of wealth creation, your large caps need a partner, and we think global microcaps provide the perfect match.
When blended with large caps, this is an asset class that may not only help boost returns, but also it may help reduce risk.
Disclaimer
This communication is prepared by Spheria Asset Management Pty Limited ABN 42 611 081 326 AFSL 1240979 as the investment manager of the Spheria Emerging Companies Limited ABN 84 621 402 588 ('SEC', 'Company') and Spheria Australian Microcap Fund (ARSN 611 819 651), Spheria Australian Smaller Companies Fund (ARSN 117 083 762), Spheria Global Microcap Fund (ARSN 627 330 287) and Spheria Opportunities Fund (ARSN 144 032 431) ('the Funds'). Pinnacle Fund Services Limited ABN 29 082 494 362 AFSL 238371 ('PFSL') is the product issuer of the Fund. PFSL is not licensed to provide financial product advice. PFSL is a wholly-owned subsidiary of the Pinnacle Investment Management Group Limited ('Pinnacle') ABN 22 100 325 184. The Product Disclosure Statement ('PDS') of the Fund is available at spheria.com.au. Any potential investor should consider the PDS before deciding whether to acquire, or continue to hold units in, the Fund.
This communication is for general information only. It is not intended as a securities recommendation or statement of opinion intended to influence a person or persons in making a decision in relation to investment. It has been prepared without taking account of any person's objectives, financial situation or needs. Any persons relying on this information should obtain professional advice before doing so. Past performance is for illustrative purposes only and is not indicative of future performance.
Whilst Spheria, PFSL and Pinnacle believe the information contained in this communication is reliable, no warranty is given as to its accuracy, reliability or completeness and persons relying on this information do so at their own risk. Subject to any liability which cannot be excluded under the relevant laws, Spheria, PFSL and Pinnacle disclaim all liability to any person relying on the information contained in this communication in respect of any loss or damage (including consequential loss or damage), however caused, which may be suffered or arise directly or indirectly in respect of such information. This disclaimer extends to any entity that may distribute this communication.
Any opinions and forecasts reflect the judgment and assumptions of Spheria and its representatives on the basis of information available as at the date of publication and may later change without notice. Any projections contained in this presentation are estimates only and may not be realised in the future.
Unauthorised use, copying, distribution, replication, posting, transmitting, publication, display, or reproduction in whole or in part of the information contained in this communication is prohibited without obtaining prior written permission from Spheria. Pinnacle and its associates may have interests in financial products and may receive fees from companies referred to during this communication.
This may contain the trade names or trademarks of various third parties, and if so, any such use is solely for illustrative purposes only. All product and company names are trademarks™ or registered® trademarks of their respective holders. Use of them does not imply any affiliation with, endorsement by, or association of any kind between them and Spheria.