10 February 2021
Pinnacle Insight Series 2021:
Fixed Income (Coolabah, Metrics)
For 30 years fixed income has been a beneficiary of falling interest rates. Now, with interest rates at close to zero around the world, generating returns from duration is arguably over.
What must advisers assess when considering their fixed income allocations in 2021 and beyond? And, how can investors generate strong and stable income in a zero interest rate world?
Hear from two of Australia's leading fixed income experts as they outline their strategies and opinions and answer your questions.
Watch Webinar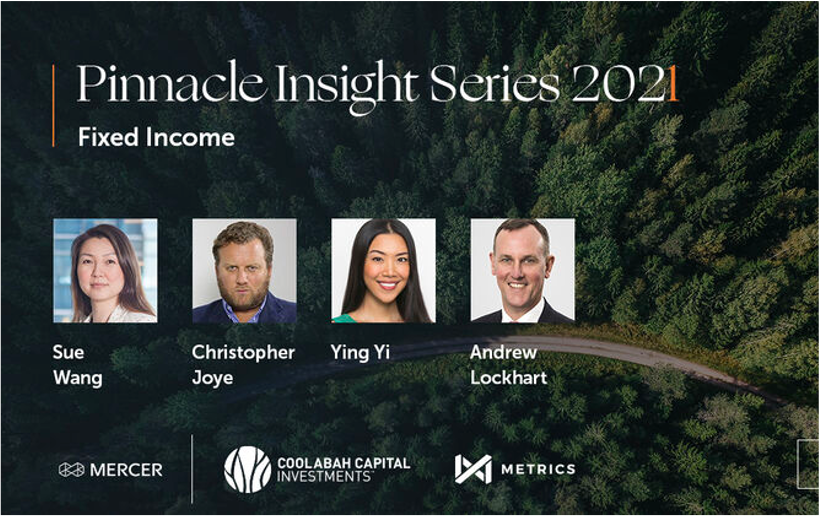 Webinar presenters:
Christopher Joye, Coolabah Capital Investments CIO
Ying Yi Ann Cheng, Coolabah Capital Investments Portfolio Management Director
Andrew Lockhart, Metrics Managing Partner
Q&A hosted by:
Sue Wang, Fixed Income Portfolio Manager
Disclaimer
This communication has been prepared by Pinnacle Investment Management Limited ('Pinnacle') ABN 66 109 659 109 AFSL 322140. Pinnacle believes the information contained in this communication is reliable, however no warranty is given as to its accuracy and persons relying on this information do so at their own risk. Any disclosure contained in this communication is for general information only. The information is not intended as a securities recommendation or statement of opinion intended to influence a person or persons in making a decision in relation to investment. This communication is for general information only. It has been prepared without taking account of any person's objectives, financial situation or needs. Any persons relying on this information should obtain professional advice before doing so. To the extent permitted by law, Pinnacle disclaim all liability to any person relying on the information in respect of any loss or damage (including consequential loss or damage) however caused, which may be suffered or arise directly or indirectly in respect of such information contained in this communication.